PHOTOGRAPHY FOR TRAVELERS
A complete photography course for the adventurer in you.
Let's get visual.
This course is for the traveler who wants to find their own voice. We'll equip you with everything you need to take a thoughtful, comprehensive approach to photography. You'll get opportunities to apply technical, creative, and cultural techniques that should be considered when creating images and capturing memories, plus tips for backing up and editing. Your creativity will be fueled by the world around you, and you'll learn how to create images that interpret your experiences wherever your travels take you.
Scroll down to learn more.
Meet your instructor, Larissa Rolley.
World traveler, entrepreneur, award-winning photographer, and university teacher.
Larissa is a traveler and photographer who brings both passions together to connect people and cultures and make the world a better place. She has an MFA in photography, and received a Weisman award for an exhibit in Sicily, Italy. She owned her own wedding photography business and was previously adjunct faculty at Columbia College Chicago. Her photographs have been published in France-Amérique and Le Mag.Currently, she divides her time between Chicago and Tahiti, and offers photo tours to French and Italian visitors. She was invited on local Tahitian television show Fare Maohi to present her work. Her photographs are in collections with Deloitte, the Northridge Group, Alliance Française de Chicago, Columbia College, and many private collections.
AS SEEN IN
Why master travel photography?
As digital photography has become more accessible, it's only natural to want to capture more of your travels. Portraits, landscapes, street, or food photography — and more — are all part of what is considered travel photography. And each of these situations involves a wide variety of lighting and shooting conditions. That's a lot to consider! Learning to use the camera or phone that you have and — more importantly — getting creative about how you observe the world is key to being able to capture quality images; images that stand out and express stories and beautiful memories that are meaningful to you.


Spend time before your next trip getting comfortable with your camera and thinking about new ways of composing your images. When you've mastered using your camera, you'll experience more, do more, and fully appreciate the travel moments, discoveries, and connections you make along the way.


What you'll learn.
With this course, you'll be creating stunning images of your travels — from landscapes and portraits to architecture and documentary. The curriculum is part technical and part creative. You'll come away understanding how your camera works and how to build on that knowledge to take better photographs. Then, you'll learn how to assess the conditions and light available to you on your travels and think creatively about composition and cultural considerations.


You'll also learn some editing tips, so you can put the finishing touches on your photographs like a pro. In the end, you'll be ready to create amazing photographs in all the variety of scenarios and express your experiences through photography in the best possible way. You'll also learn about storing and backing up your images, and how to streamline your workflow so that your files are always protected, no matter where in the world you are.
We'll cover:
Camera modes and exposure.
We'll cover the technical ins and outs of your camera or phone. You can shoot in any mode you are comfortable with, but knowing why and how to change settings when you need to will help you create better images.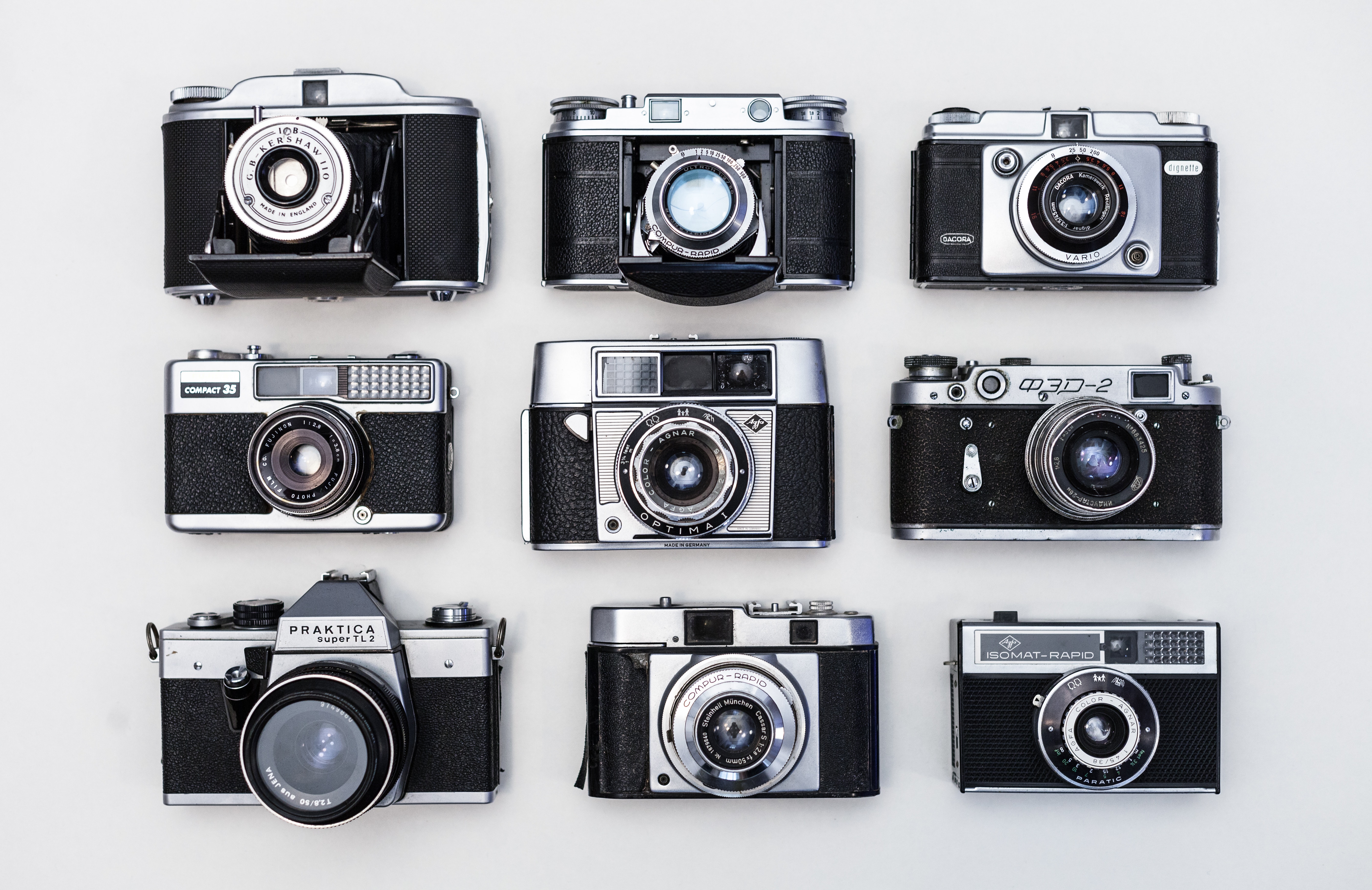 Your creative journey.
With the course companion journal, you'll be able to capture your personal "aha!" moments and look back at your progress and growth.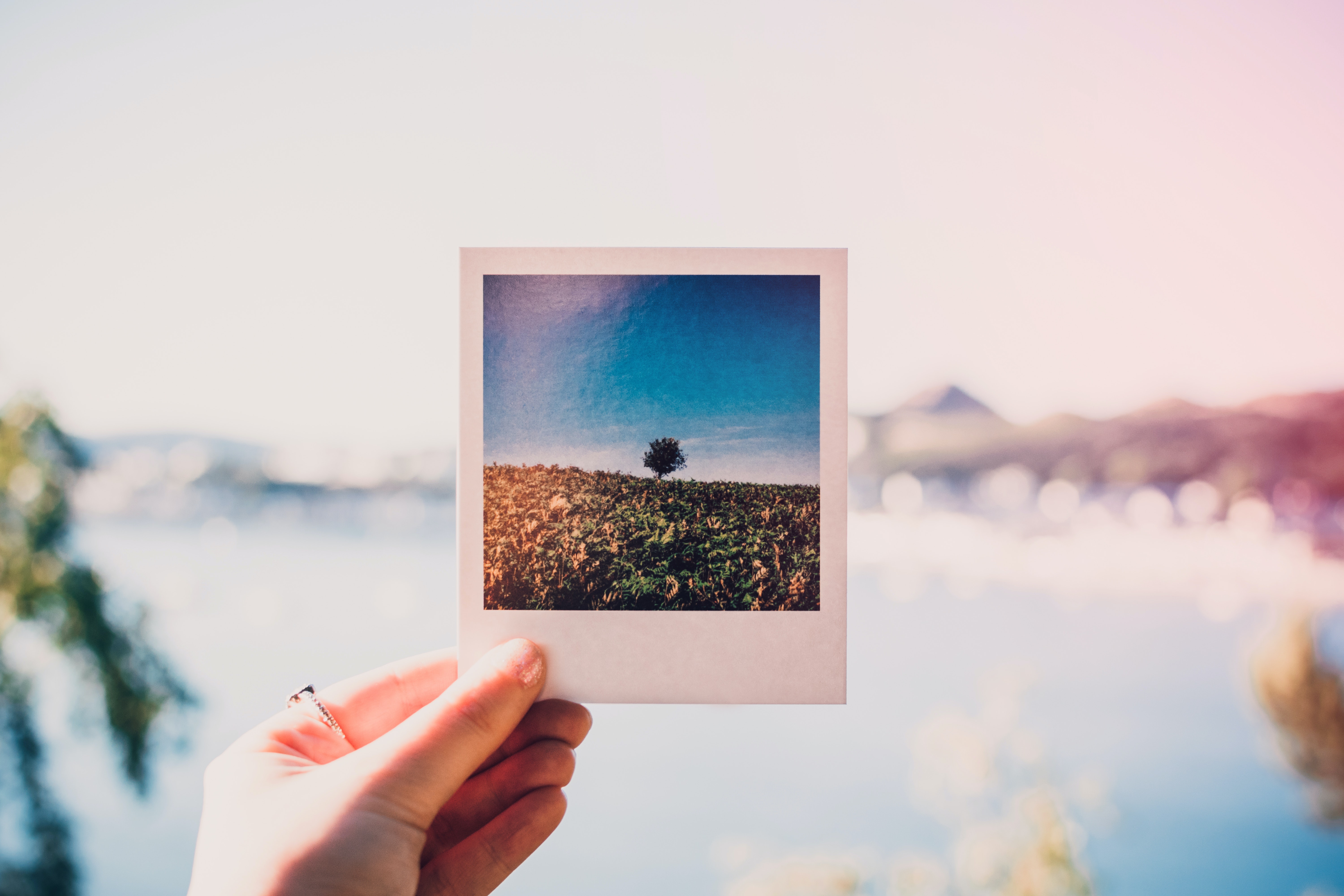 The art of photography.
Mastering technical and creative skills will help you find your own voice. You'll design a project with a range of subjects. Images that stand out and express your experiences start with understanding visual vocabulary and composition.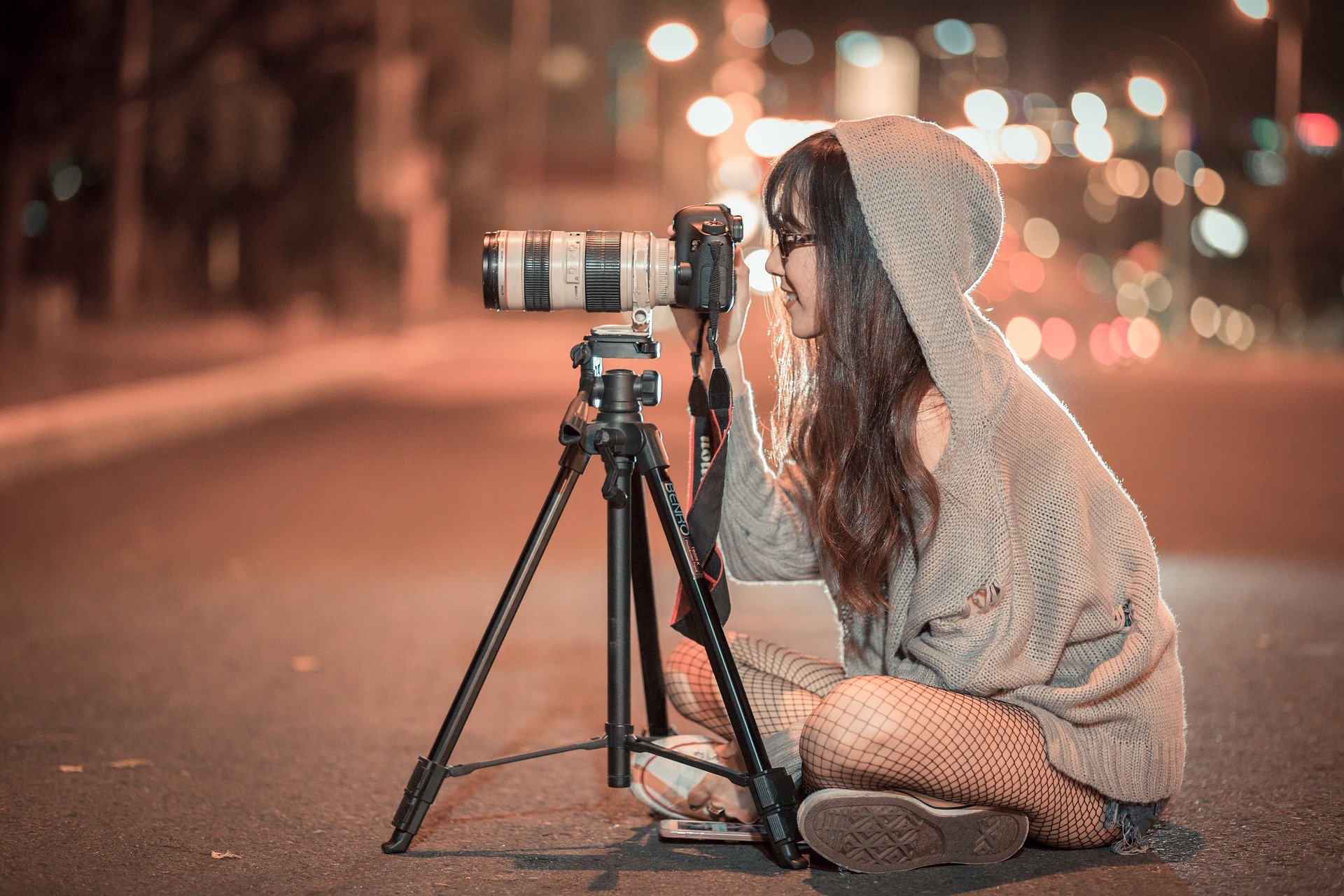 Cultural considerations.
In our travels, it's important to consider how we can be respectful and ethical when capturing people and places. We'll share tips throughout for how best to take these important points into consideration while still capturing experiences and showing creativity.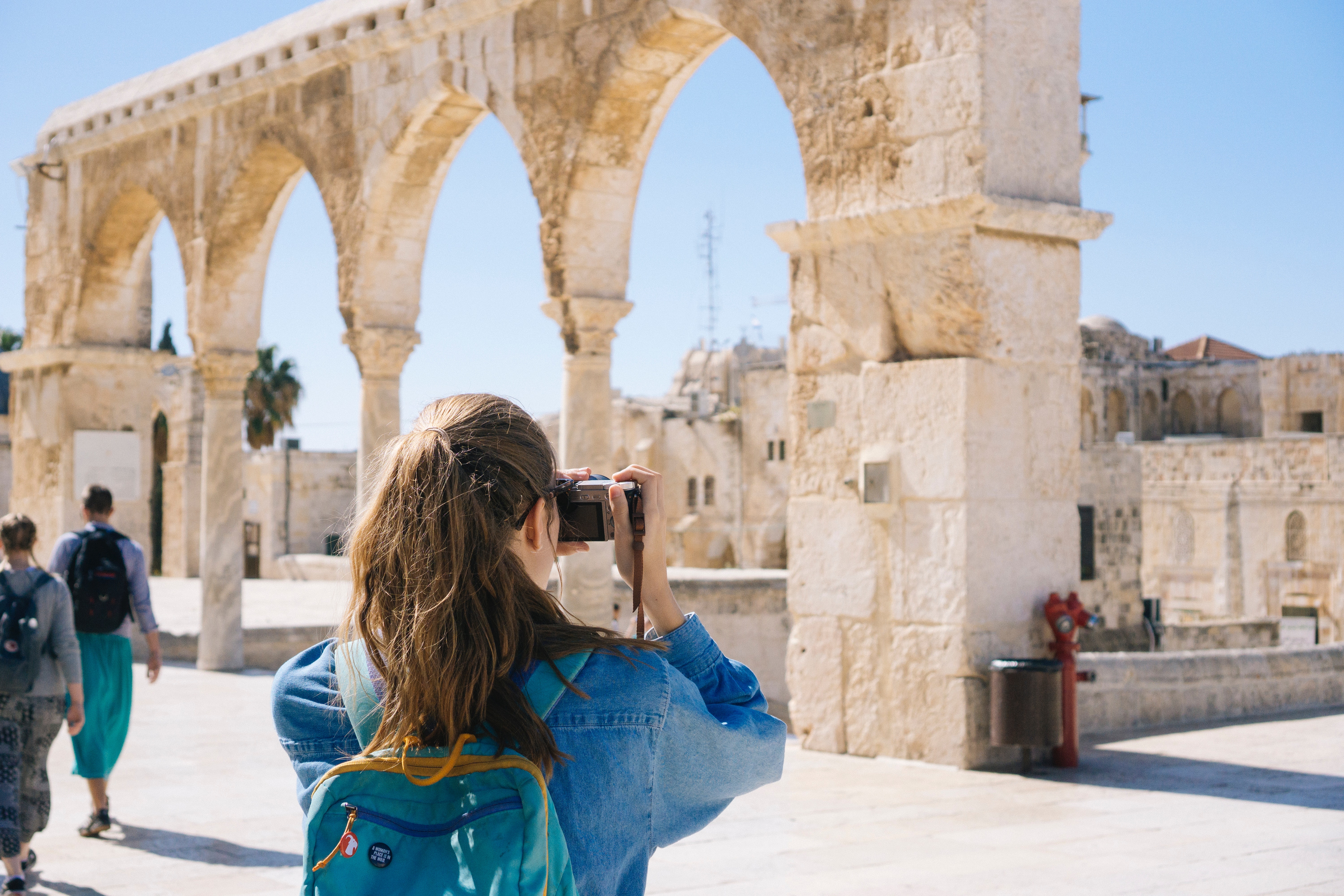 Backups, storage, and editing.
Mastering your camera isn't all you need to know! We'll provide a simple workflow to store and backup your photos so that none are lost, plus a flexible approach to editing to put on the finishing touches and infuse your photos with the emotions that you want.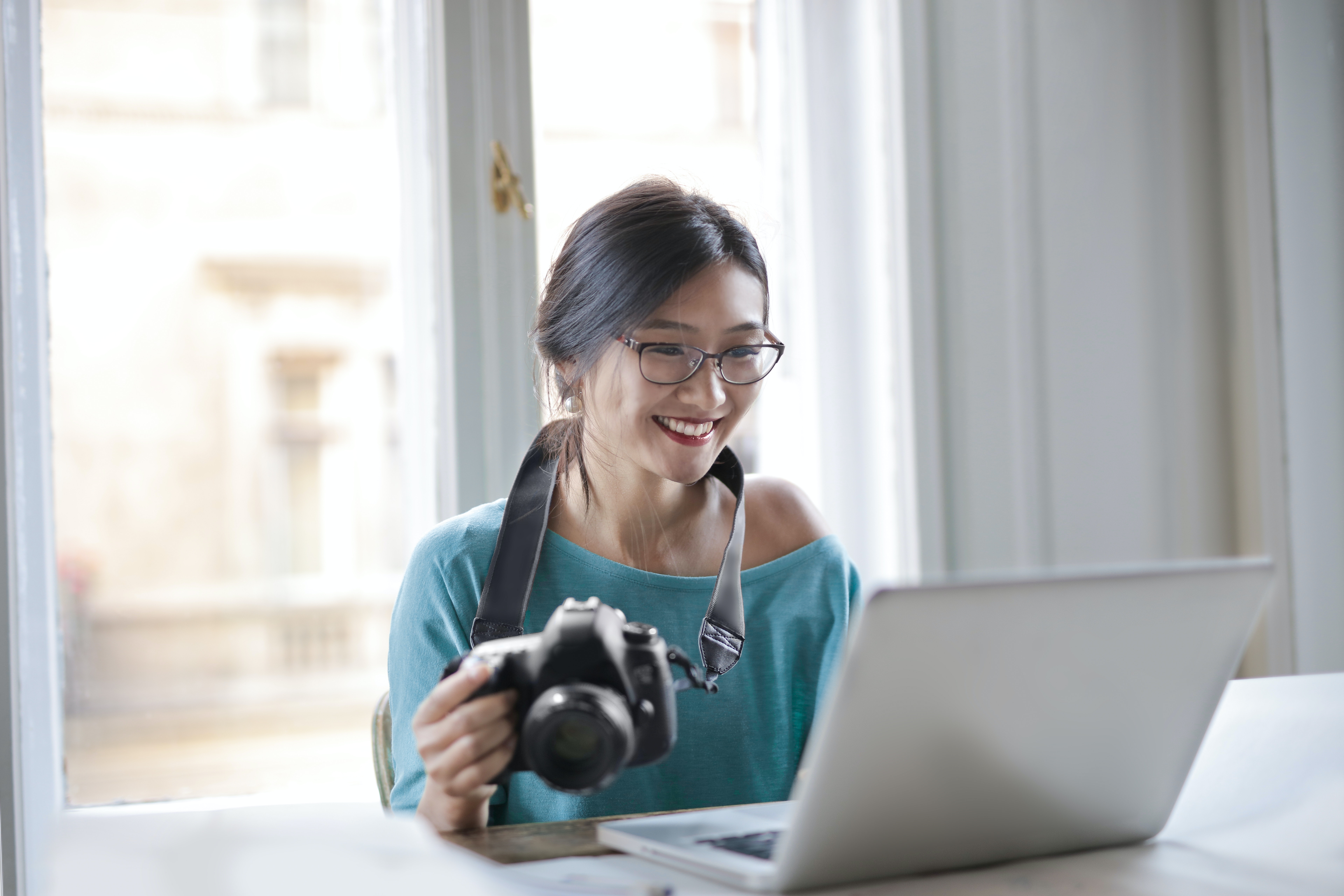 Sharing and feedback. Sharing your images with others is an important step to learn how your images are perceived and if they resonate. This is invaluable feedback for you as you continue to improve your skills and grow to produce more sophisticated and evocative images.

Course curriculum: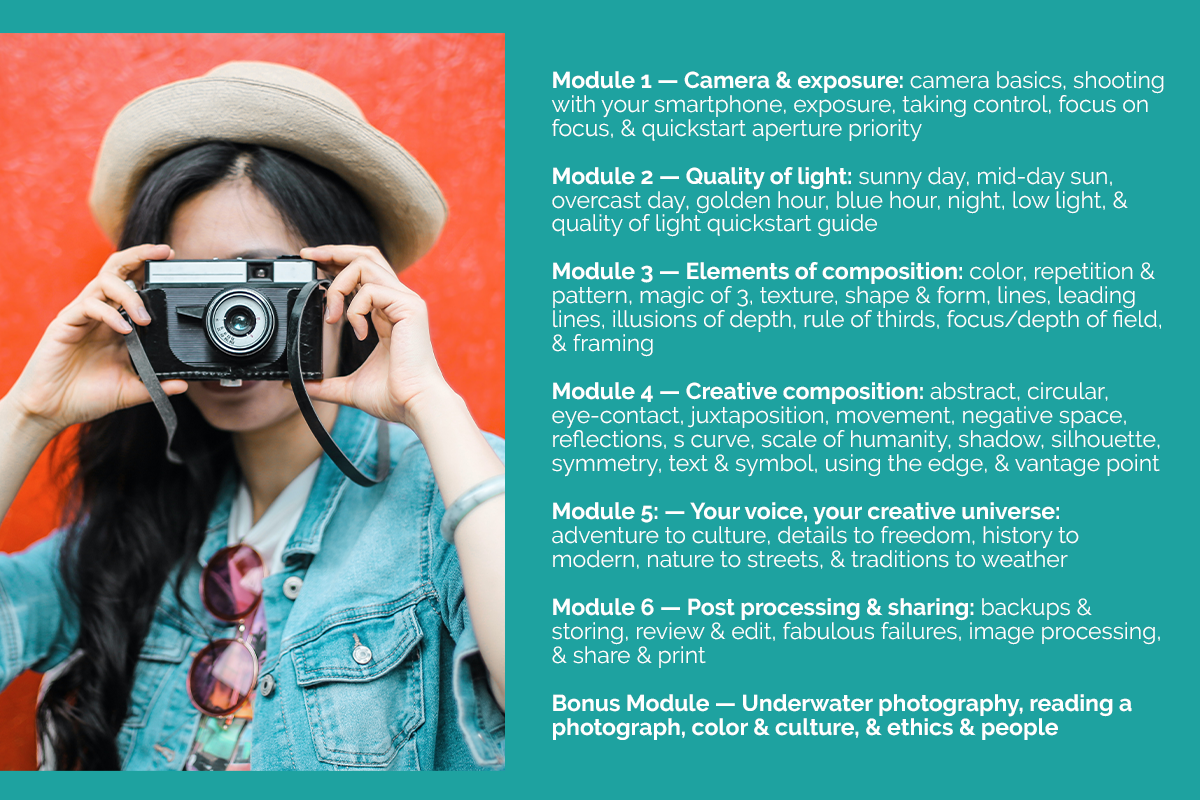 Who is this course for?
This photography course is for travelers, whether you have a camera or want to use your phone, and will give you all the technical and creative tools you need to improve your photography and find your style.
This course includes:
6 modules
49 lessons
1 course companion journal, 1 travel + photo journal for your next trip, 2 quickstart guides, & 5 downloads
5 quizzes
Course completion certificate
Lifetime access to course materials and updates
Add-ons:
For an extra fee, you can schedule a private photo review session or a one-hour private lesson to focus on any issues that you may have.
Bonuses:
There are 4 segments in the Bonus Module:
Underwater Photography
Color & Culture
Ethics & People
Reading a Photograph
Plus:
All students get access to a private facebook community.
Ready to join us?
PHOTOGRAPHY FOR TRAVELERS
Students receive:
Access to all course modules
Lifetime access + updates
facebook community
FAQs
When does this course begin and end?
The course starts when you enroll and you're ready to get started. It is a completely self-paced online course — you decide when you start and when you finish.
How long do I have access?
How does to infinity and beyond sound? After enrolling, you have unlimited access to this course for as long as you like, across any and all devices you own. You will also have access to all future updates, so as things change in the influencer world, you can come back here and learn anew without ever having to purchase again.
What if I'm unhappy with this course?
We would never want you to be unhappy! We are more than confident that this course will work for you, just as it has helped thousands of other students. However, if you are unsatisfied with your purchase, contact us in the first 14 days after you purchase and we will gladly give you a full refund.